This year I have visited Turkish Cappadocia - a place so picturesque and full of magic. Words are not enough to describe the beauty of this place. You wake up in the morning and you see hundreds of hot air balloons flying through the sky. Seeing the unique scenery of Cappadocia from the vantage point of a hot air balloon is such an unforgettable experience. My eyes even teared up from emotion when I saw the sunrise from above since it was a long time dream. The views were breathtaking! About 100 balloons dotted the skyline. It is so inspiring, spiritual and make us feel like we are on a different planet. It has to be the most unreal place I've ever been to, with incredible landscapes that prove nature truly is the most creative architect. Nature got really creative here with crazy landscape in Pasabag and Love Valley that look like a Salvador Dalí painting.
From a dreamy balloon ride to wandering lost in surreal valleys, there are many great things to do in Cappadocia. I spent 5 nights days exploring the area of Goreme: hiking the valleys, eating amazing turkish food, sampling the tea, drinking Kocabag red wine from the area and absorbing the views. There is a popular green and red tour, but I did it on my own. I visited the Love Valley, Pigeon Valley Uchisar, Pasabag, Rose Valley and the famous places to see the handmade carpets Ikman and Sultan.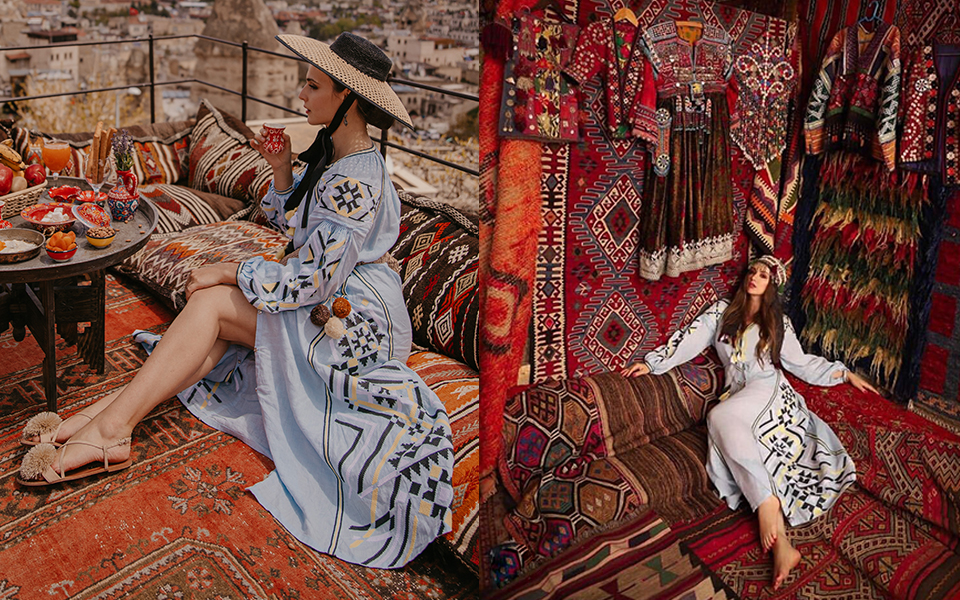 Every morning I woke up at 5am to see the sunrise and hundreds of hot air balloons flying in the sky.
The area itself is sculpted over the years by wind and water, form a canvas of magnificent scenery, half-domed white rocks cling to valley tops, rippling rose canyons scar the earth and phallic rock formations reach for the sky. The places I have stayed are literally caves and it makes the experience even more magical. People of Cappadocia have been living either underground or in caves for centuries, right up until the present day. My Vyshyvankas traveled with me and were great to wear during the hot Cappadocian days.